A Deed Poll is a document used for legally changing name.  Whatever the reason for a name change (changing a surname after divorce for example, or changing a first name) it can be completed free of charge by using an MD Pryke Notary Public LLP Deed Poll form as laid out below.
A Deed Poll is a term with which most people are familiar.  If they are intent on a new name people believe they must visit a Solicitor or a Notary Public to change name legally by Deed Poll.  A legal name change, however, is a simple process and can be completed free of charge in three easy steps.
Free name change step 1.
Download a free Deed Poll here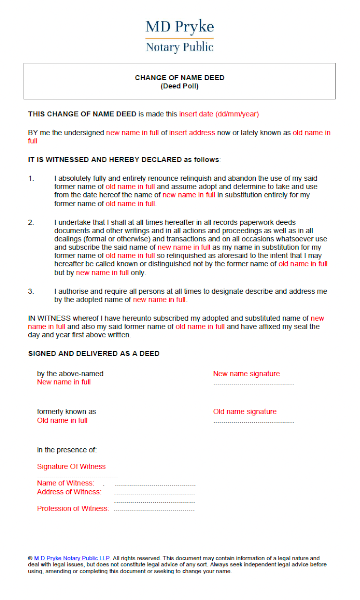 Free name change step 2.
Simply open the Deed Poll thumbnail and follow the instructions written in red.  You must delete the red writing and replace it as per the Deed Poll instructions.
Free name change step 3.
Once you have filled in the Deed poll, you must sign it and get it witnessed by an independent third party as per the instructions on the Deed Poll.
Once your Deed Poll is filled out correctly, you have now changed your name by Deed Poll.
Your name change is now 100% legal – KEEP THE DOCUMENT IN A SAFE PLACE!
Should anyone question your new name, this completed Deed Poll certificate will verify your change of identity.  To change your name on a Passport, government document, etc, you will need to present either your original Deed Poll or an official certified copy.
For further information on our free legal name change Deed Poll, or on any of our Notary Public Services please contact Matthew on 0207 6364422.