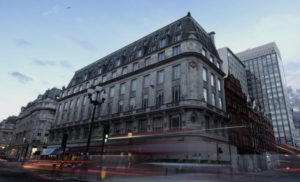 Where are our Notaries Offices in London?
We benefit from being in very close proximity to Oxford Circus Tube Station and set out below is a map of how to locate our London Notary office.
Our office are conveniently located within the commercial law firm offices of Hamlins LLP. When attending our Notaries offices please press the buzzer at the entrance for Floor 2 and access Roxburghe House from our Regent Street entrance next to SpaceNK's new flagship innovation store "Innovation by SpaceNK". All appointments take place in our spacious 2nd floor meeting rooms.
What do you do on the day?
Please provide your original ID documents to our helpful and welcoming receptionists for copying. These photocopies will be retained indefinitely as part of the public record maintained by the Notary.
If you are keen to minimise the meeting time we can assist with this by preparing the documents in advance of the meeting. To do so please arrange for the documents, including copies of your ID documents, are sent by e-mail or fax us in advance of your appointment. This will allow us to prepare all of the Notarial certificates and other paperwork in advance of the meeting and keep the meeting with the Notary short and efficient.
Any questions or concerns?
Our team are here to assist and support so please do not hesitate to contact us on matthew@mdpryke-notary.com or by telephone on  0207 355 6000 and we very look forward to meeting you soon.
Tell us what you think
We would love you to leave a review of our Notary Public Service on Google and we will respond promptly and fully to any reviews we receive.