To assist our London Notary Public clients below is a brief checklist of things to remember when attending our Notary Public Office in London.
Notary Public Appointment Checklist
What do you need to bring?
Please remember to bring with you the following original documents:
your passport; and
a utility bill or bank statement which is less than 3 months old and confirms your residential address
Documents to sign
Cash or cheque to pay the Notary Public invoice. We do not accept payment of Notary Fees by card.
ID documents are not necessary if our Notary Offices have seen these before, provided your passport has not been renewed or expired or you have changed address.
Where to find our London Notary Public Offices?
We are in close proximity to Oxford Circus Tube Station and set out below is a map of where to find the notaries office.
     Notary Public London Office Address
Roxburghe House,
273 – 287 Regent Street,
London
W1B 2AD
Our Notary Public offices in London are located within the law firm Hamlins LLP. When attending the Notaries offices please press the buzzer for floor 2 and access Roxburghe House from Regent Street, W1.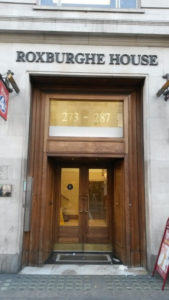 What do you do on the day of the Notary Public Appointment?
Please provide your ID documents to our Notaries office receptionist for copying. These copies will be retained indefinitely as part of the public record.
We can minimise the meeting time by preparing the documents in advance of the meeting if you e-mail or fax us copies of the document in advance of your Notary appointment.
Any questions?
Please do not hesitate to contact our Notary Public in London offices on matthew@mdpryke-notary.com or by telephone on 0207 355 6000.