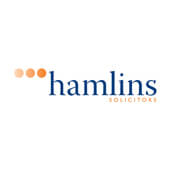 M D Pryke Notary Public operated by N Now Limited, is an independent Public Notaries practice based on Regent Street in London. However, many Notary clients know Matthew as a qualified solicitor and expert in matters pertaining to Intellectual Property, Media, Entertainment and Sport.  Matthew has recently been appointed as a partner at Hamlins LLP, a thriving law firm with a proven heritage in Media and Entertainment work.  Matthew started in his position as Partner on 3 December 2012 based from Hamlin's Regent Street offices in London, UK.
Hamlins LLP serve all types of clients from a diverse range of industries, from public companies to individuals and entrepreneurs. The firms has a broad range of commercial law expertise and some niche specialities for which Hamlins has a special reputation. This is particularly the case in the IP, Media and Entertainment sectors where the firm are viewed as one of the leaders in the industry.  The firm has an aim and reputation for developing long term relationships with its clients. The firm work closely with businesses and individuals to contribute towards their clients' ongoing success. It is this culture which fits so well with the Notaries practice of Matthew Pryke.
Matthew Pryke, owner of N Now Limited which operates M D Pryke Notary Public, is an expert in international legalisation stating "I am absolutely delighted to have have joined the fabulous team at Hamlins LLP.  Hamlins is a very successful firm and has a practice and expertise that complements my work and experience. I look forward to working with the clients of the firm to assist with their legal requirements. My Notary Public practice will continue to serve my London clients unaffected and I look forward to welcoming them to my new offices on Regent Street, within 200 meters of Oxford Circus tube station."
Matthew Pryke has been a qualified Notary Public and solicitor for many years and operates a successful London practice that provides a complete legalisation and notarisation services. The Notary Public practice of M D Pryke Notary Public will be unaffected by this partnership appointment and has recently announced that it will be relocating its offices to Roxburghe House, 273 – 287 Regent Street, London. This move is intended to make the practice even more available to its Notary clients in London. The office is ideally located close to transport links in London's West End.
For further information about the practice of Hamlins LLP please refer to the website www.hamlins.co.uk.  For further details of Matthew Pryke's Notary Public practice please refer to the website at www.mdpryke-notary.com.