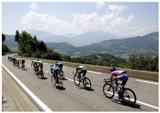 London Notary Public Matthew Pryke will shortly be undertaking a 191 mile Paris to London cycle ride.  This Notary Public in London is undertaking the charity ride in an effort to raise much needed funds for Crohn's and Colitis in Childhood.  So far his London Notaries Public practice has helped to raise in excess of £30,000 which will provide fantastic support for this very important charity.  The event is kindly being sponsored by WPP and Hammonds LLP which has allowed all of the funds raised to go directly to the charity. Matthew Pryke would like to thank many of his notary clients who have been so very generous in making donations to this wonderful cause.  London Notary Public Matthew Pryke explains "Crohn's and Colitis in Childhood is a wonderful charity and I am delighted that we have been able to assist in raising some much needed funds via our London Notary practice. Just the small matter of cycling the distance now! "
Andy Goodman, who is organising the event on behalf of the charity explains "So far we have raised well in excess of £30,000, which is absolutely fantastic, but let's see if we can take it a stage further."  Matthew Pryke and a team of 33 riders will be leaving Paris on the morning of Friday 23rd July and travelling over 3 days back to London arriving in Hampton Court on Sunday afternoon.  Further articles will follow to provide progress reports on how Matthew and the rest of the team cope with this challenge.
Should you wish to make a donation please refer to http://uk.virginmoneygiving.com/mattpryke or alternatively if you would like further information about this London Notary Public practice or Matthew Pryke please refer to the website www.mdpryke-notary.com.