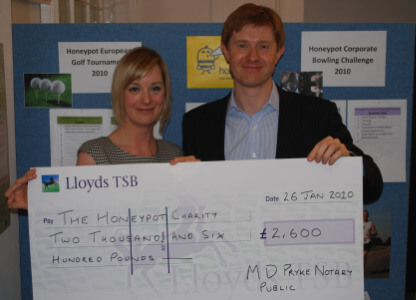 Notary in London Matthew Pryke today launches a campaign to encourage law firms and fellow Notary Publics to donate a small percentage of their fees to a designated charity partner.
Matthew Pryke Notary Public says, 'It's not about the size of the donation really.  It's more a case of little and often.
'Notary matters tend to generate relatively small amounts of revenue, often just a small fee to notarise a document.  By donating £10 for every notary transaction I was recently able to donate £2,600 through my notary business to my designated Charity partner Honeypot to provide respite care for children who act as carers to their family.
Many clients enjoy the fact that a percentage of the firm's revenue is passed on to community charities.  I would encourage other notary practices and law firms to set up a similar arrangement with a charity partner like Honeypot.  It generates revenue for their business, supports the local community and can help the public understand that the legal profession is more public spirited than they might believe.'
Ronan Macmillan of Honeypot agrees.  'We are thrilled that Notary Public Matthew Pryke has pledged to donate £10 to Honeypot for every notary task he undertakes.
In addition to the £2,600 he has raised through his London Notary practice this year, last year he raised £32,000 by organising a trip to climb Kilimanjaro and we are delighted to have Matthew  as an official corporate sponsor.'
If you are a Notary, or know of a Notary Public who is interested in sponsoring Honeypot, please call Matthew Pryke Notary Public to discuss this further.
For more information on how Matthew Pryke Notary Public donates to Honeypot through his Notary business, please visit www.mdpryke-notary.com/londonnotarypubliccharity